Pop-up events are becoming more and more popular and with the continual introduction of new brands creating a sea of competition, it's important to stand out. Brands are quickly realising that in order to make an impact on their target market and create a long-lasting impression, a different approach must be taken.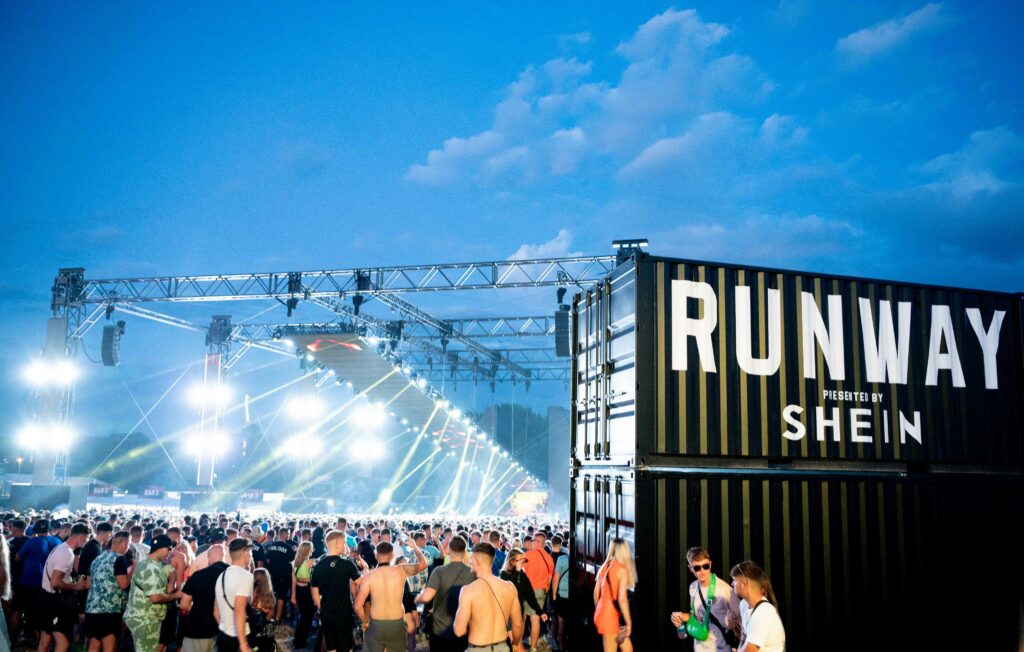 Whether it be at a festival, a retail venue or anything in between, standing out in the crowd could be quite difficult – until shipping container conversions became an option. Nowadays, more and more brands are repurposing shipping containers to use as retail units, brand experience stations and pop-up venues across the country, and it's no surprise why.
The Benefits Of Using Shipping Container Pop Ups
These multi-functional structures come with an array of advantages that range from being cost-effective and easily customisable to being eco-friendly and built to last. Not only can they help you manage your budget better, but their flexible design options also allow for quick adjustments to suit your event's specific needs.
They're affordable
Companies can find themselves spending thousands and thousands of pounds on specifically designing the materials to accompany pop-up events. From the actual structure used for the promotion, right down to the flyers and samples handed out on the day, the costs can soon rack up.
A shipping container repurposed for a pop-up event can certainly bring those numbers right down. Shipping containers can be bought either new or used depending on your budget, and due to the fact that they are built to last, they have a long life span so they can be used time and time again.
They're very customisable
Thanks to their standard structure, shipping containers are highly adaptable, offering limitless customisation possibilities. Whether it's a unique colour, different materials, specific modifications, or their intended use, containers can be fully tailored to align seamlessly with your brand's aesthetic and vision.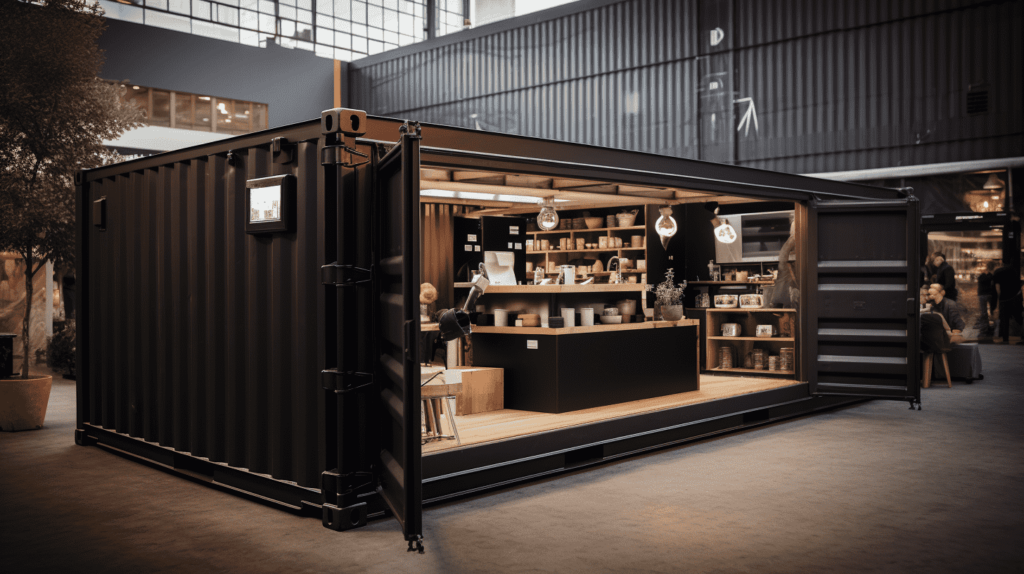 Ready to visualise your dream event space? Our expert design team is here to create stunning CAD drawings, bringing your ideas to life down to the last detail – be it windows, doors, lighting, or even internal and external paint finishes. No project is too big or too small for our capable team. Contact us now to discover the endless possibilities of your converted pop-up shipping container!
They're easily portable
Whether your event is a one-off attraction or part of a larger national or even global sensation, your converted shipping container can come along with you every step of the way. Thanks to their original purpose, shipping containers are specifically designed to be easily transported via rail, road or sea so you will have no trouble taking your pop up shipping container from one city to the next, by whichever means suits you best.
Furthermore, because a container is predominantly used for storage, chances are that even if you've heavily customised the interior, there will still be additional room to transport associated items to the next stop too.
They're extremely safe and durable
One of the most significant benefits of using shipping container pop-ups for your events is their inherent safety and durability. Originally engineered to withstand the harsh conditions of long-haul shipping and handling, these containers are constructed from robust materials like weather-resistant steel. This makes them exceptionally stable and durable, able to stand up to a variety of environmental conditions including strong wind, heavy rain, and temperature fluctuations.
Additionally, their robust construction meets rigorous safety standards, ensuring a secure space for both guests and your event materials. From locking mechanisms to the potential for reinforced safety measures, shipping container pop-ups offer peace of mind alongside their array of other advantages.
Pop Up Shipping Container Uses
When it comes to event planning, versatility is key, and that's exactly what pop-up shipping containers offer. These innovative spaces are not just a trend, but a revolution in how we think about event hosting. From serving as food and beverage stalls to transforming into interactive zones or brand experience stations, shipping container pop-ups can adapt to nearly any function you have in mind.
Food and beverage stalls
When it comes to offering food and beverages at an event, shipping containers converted into food and beverage stalls present an excellent solution. These containers provide a compact yet highly functional space, which can be equipped with the essentials to prepare, store, and serve your culinary and beverage delights.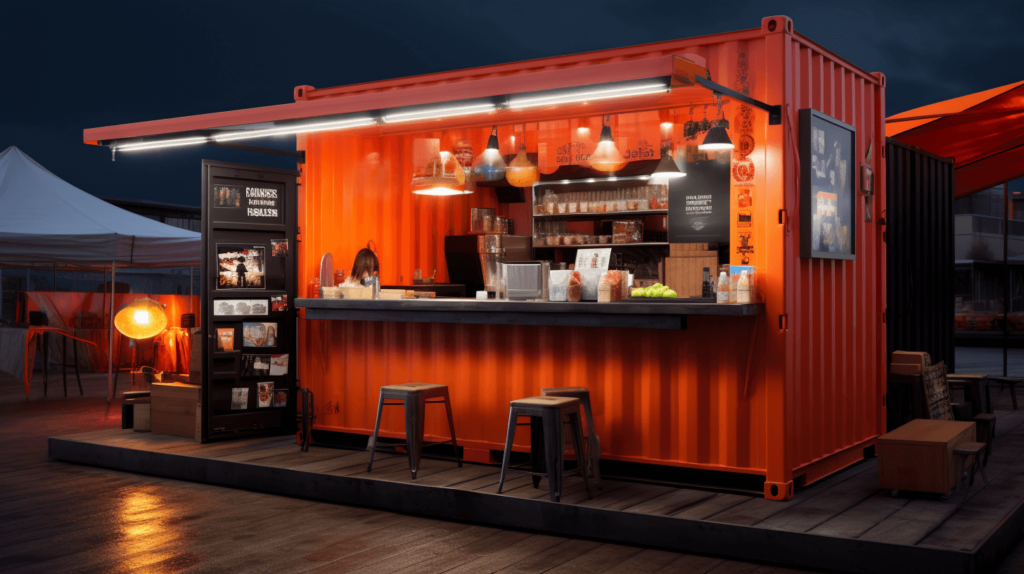 Their compact design also allows for efficient use of space, while still providing enough room to house all the essentials, from cooking equipment to seating areas. Not only do they offer a unique dining experience, but they also create a functional, memorable, and Instagram-worthy focal point for your event.
Retail pop ups
Pop-up shipping container shops offer a unique and engaging platform for retail experiences. Whether you're launching a new product line, running seasonal promotions, or just wanting to establish a temporary physical presence, these containers provide a customisable and cost-effective solution.
Their modular design allows for a variety of configurations to fit your specific retail needs, from open-concept showrooms to intimate boutique settings. Plus, their unconventional structure can attract more attention and foot traffic, offering a memorable shopping experience that stands out from traditional retail spaces.
Interactive zones
Interactive zones created from converted shipping containers offer a fantastic opportunity to captivate and engage your audience. These spaces can be tailored to host a wide range of interactive activities, from gaming stations, tech demonstrations and virtual reality experiences to hands-on workshops and educational displays.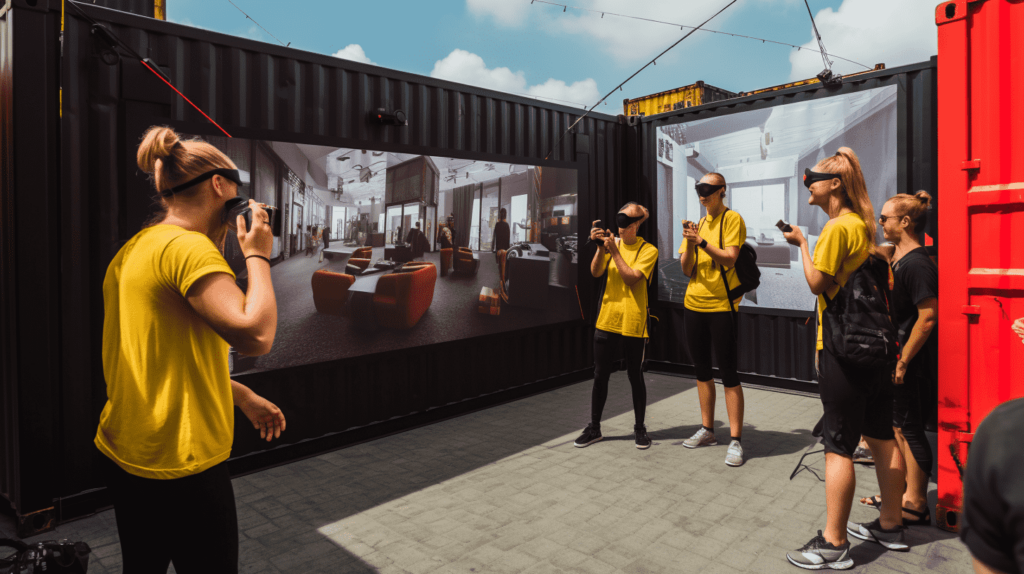 Additionally, the durable structure of the container ensures safety, so you can incorporate various types of equipment and setups without concern, while their distinct aesthetic can enhance the overall ambiance of the interactive zone.
VIP lounges and seating areas
When it comes to providing an exclusive experience for special guests, shipping container pop-ups offer a unique and sophisticated option for VIP lounges and seating areas. These containers can be transformed into luxurious spaces where special guests can relax, network, or enjoy a more intimate setting away from the larger crowd.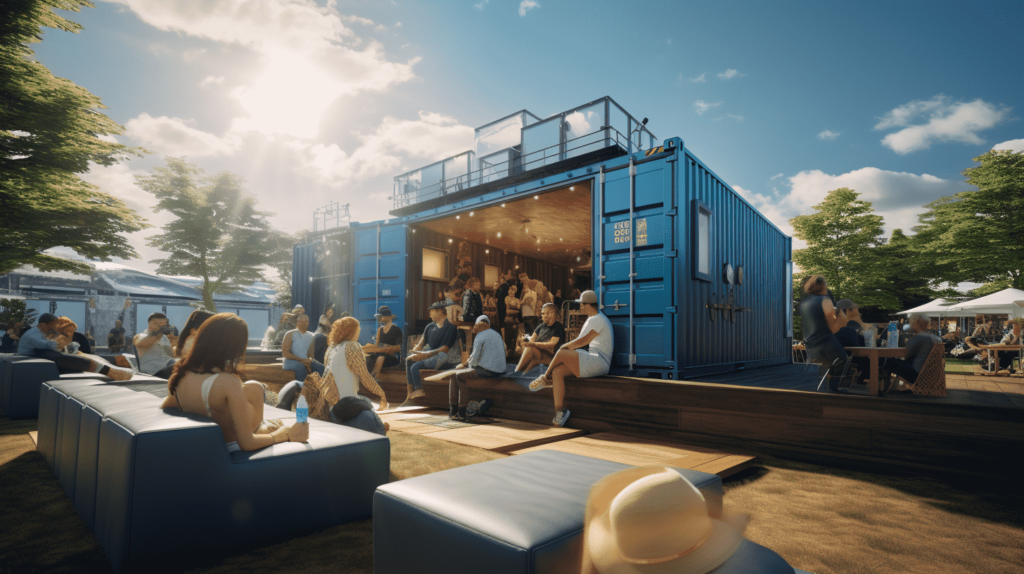 With countless options for customization, you can design the interiors with high-end finishes, complete with plush seating, ambient lighting, and even built-in bars or refreshment stations.
Advertising & brand experience stations
Utilising shipping container pop-ups as advertising and brand experience stations offers a unique and impactful way to showcase your brand. These containers serve as blank canvases that can be completely customised to reflect your brand's identity, from colour schemes and logos to interactive displays and multimedia installations. They are highly visible, attention-grabbing platforms that not only showcase your products or services but also allow for immersive, interactive experiences.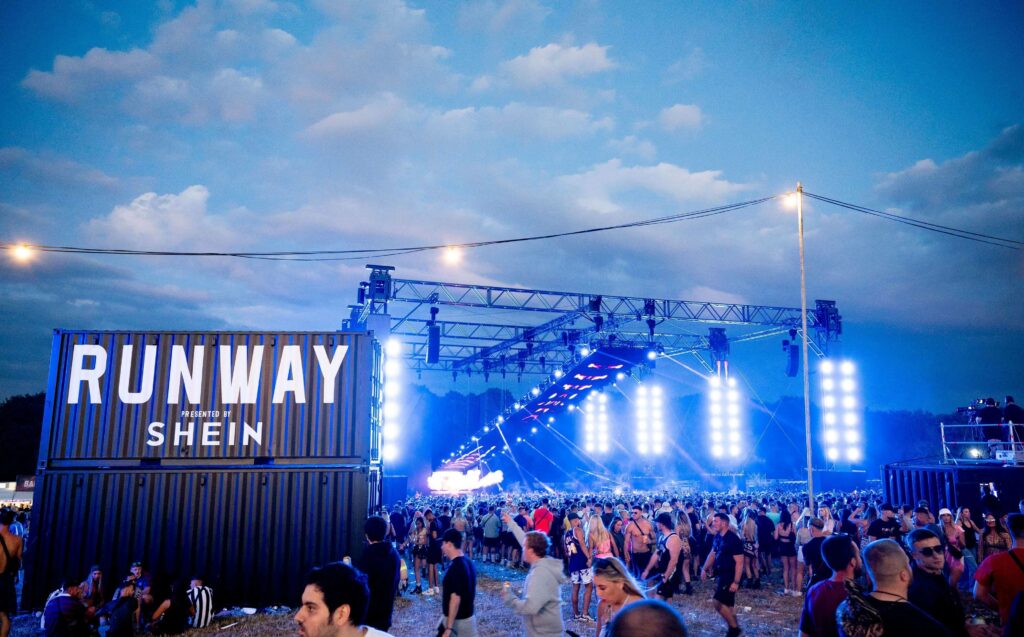 Our Pop Up Shipping Containers In Action
To truly grasp the potential and versatility of shipping container pop-ups, real-world examples speak volumes. Our shipping containers have been deployed in a range of events, from music festivals to corporate gatherings and art exhibitions, proving their adaptability and appeal.
Creamfields Music Festival
At the renowned Creamfields Music Festival, SHEIN brilliantly utilised our company's converted shipping containers as innovative advertising blocks. These containers were not just functional, but they also served as vibrant beacons of the SHEIN brand, creating a memorable brand experience for attendees.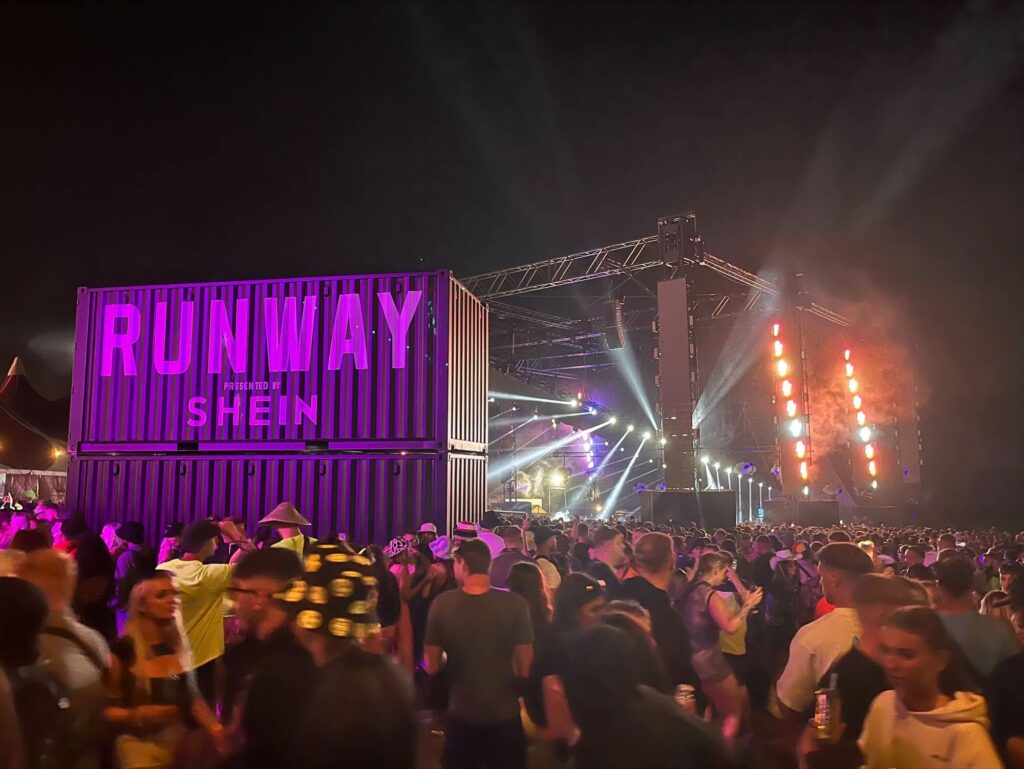 Their unique design and aesthetic made them highly "Instagrammable," encouraging festival-goers to frequently capture and share their moments with the SHEIN containers on social media. This blend of functional advertising and organic social media traction demonstrated the potential of using our converted shipping containers for modern event marketing.
Sky Ocean Rescue
The challenge was designing, constructing, and overseeing an experiential sponsorship zone that prominently featured 'Poly,' all in conjunction with the Volvo global sailing race, which was sponsored by Sky.
The solution consisted of 11 shipping containers, a living wall, a large plastic whale, and scattering beach pebbles to create a fully immersive experience educating both children and adults about the harmful impact of plastic on our oceans.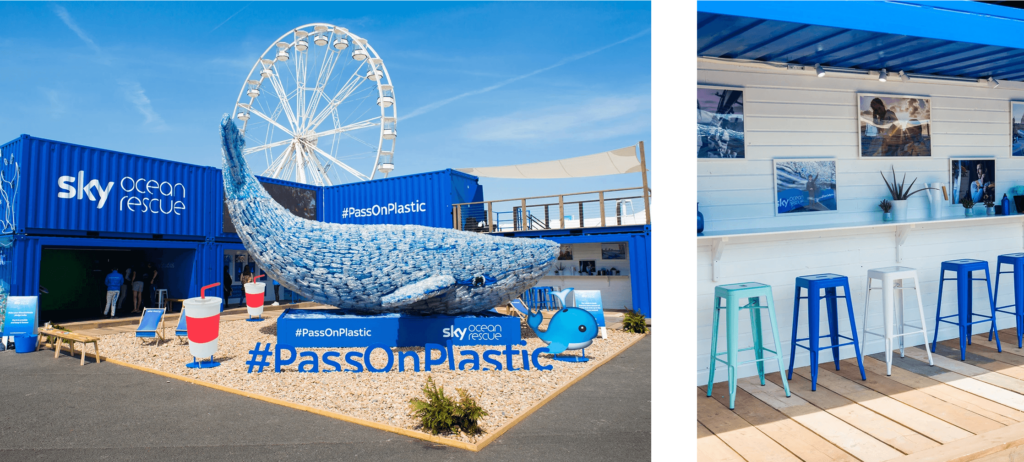 Visitors were invited to express their opinions by recording brief news segments on camera. To enrich the experience further, a custom-designed animated neon wall was incorporated, a "name the whale" voting station ('Poly' was the winning name), and a bespoke infinity room. This room featured floor-to-ceiling mirrors and a ceiling-mounted video wall that displayed a custom CGI underwater scene. As viewers watched, the scene gradually became cluttered with plastic, driving home the urgent message of Sky Ocean Rescue.
Read more about the Sky Ocean Project.
Conclusion
Surprised? Perhaps! You may have seen converted shipping containers in situ at previous events but thanks to their clever design, you may have not even noticed that that is how they began life. Shipping containers are a great structure to repurpose, and can save you a lot of money in the long run.
Whether it be for a festival or an experiential marketing campaign, or even a simple information kiosk, the main goal is to provide a memorable experience for the consumer. By repurposing and redesigning a shipping container, you would achieve just that, before any exchange of goods, or words for that matter! When you're considering what you need for your next pop-up event, consider shipping container conversions to create that unforgettable brand experience for your customers.
If you would like a friendly, honest chat about designing a shipping container for your next pop up event, please call the Universal team today on 0845 050 0330 or contact us via the online contact form.