Side Curtain Containers
Engineered with functionality in mind, our side curtain containers feature retractable side curtains, offering full side accessibility to easily access your goods and contents.

Available in a variety of sizes and specifications, every side curtain container is constructed from durable, high-grade materials, ensuring durability and secure storage for your goods. These containers are designed not only to store and transport goods, but also to inspire innovative conversion solutions.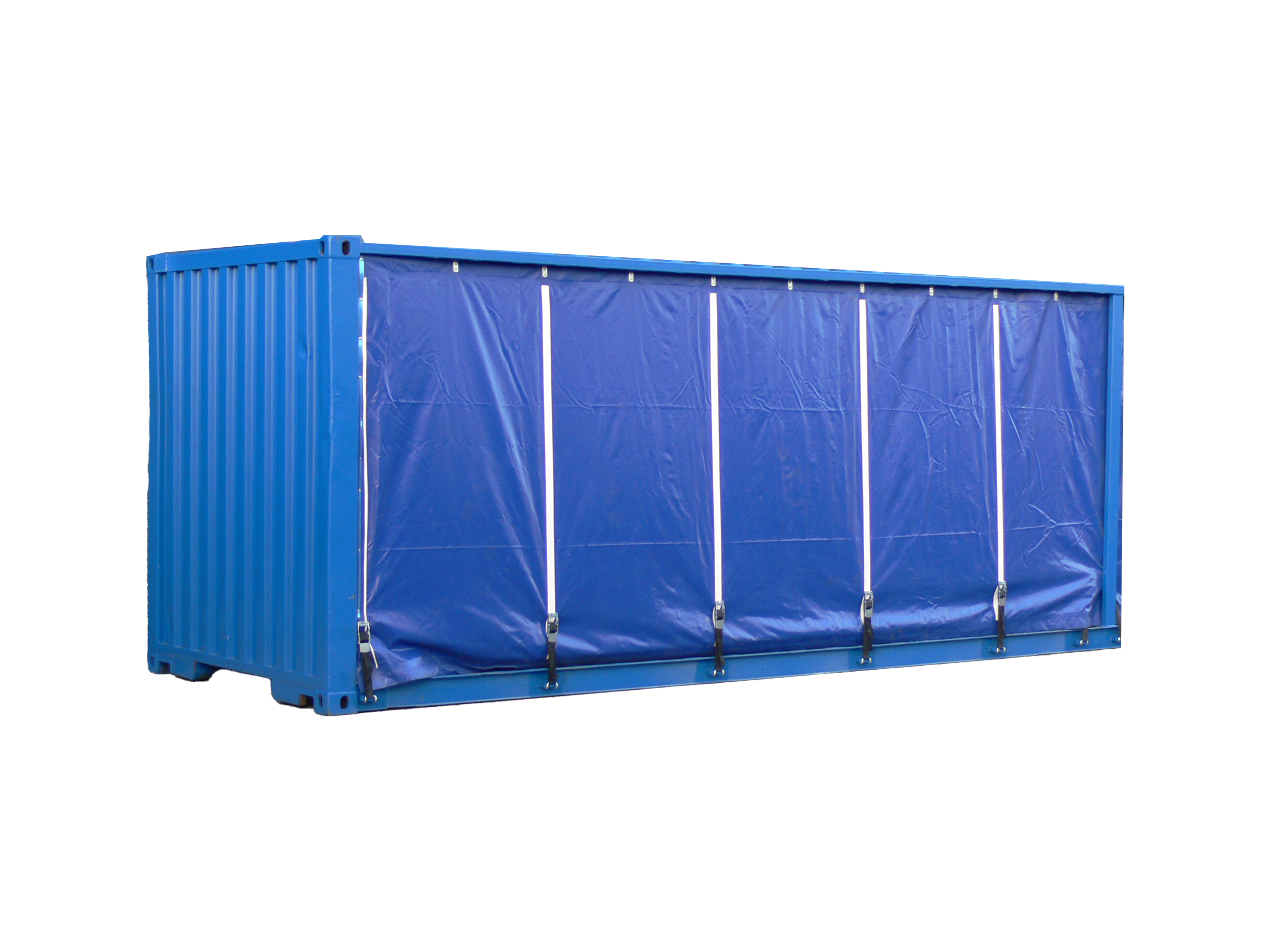 These containers feature roll-up fabric side curtains that can be opened or closed quickly as needed. When closed, the curtains provide secure and weatherproof storage, ideal for transport on the roads.
With the curtains opened, the sides of the container are completely accessible for rapid loading and unloading. Forklifts and pallet trucks can easily access goods through the open sides.
Side curtain containers are perfect for frequent handling of deliveries, for goods that need ventilation during transport or storage, and for flexible workspace needs. With the curtains down, the interior space can be fully utilised.
These units are available in a range of standard sizes from 20ft to 40ft containers to meet your specific spatial requirements. Talk to our team to learn more about the advantages of curtain sided containers for your particular usage needs.
Contact our team today to enquire about our side curtain containers combined with all the modifications and customisations offered across our range to help meet your unique specifications.
Looking for a completely custom solution?
We have a wide range of base containers that can be customised to your needs, however we realise that sometimes you need something completely 'Outside the box'.

Contact us and one of our experts will be in touch to help design the container of your dreams
Our containers in action
See some of the ways our amazing customers are using their containers.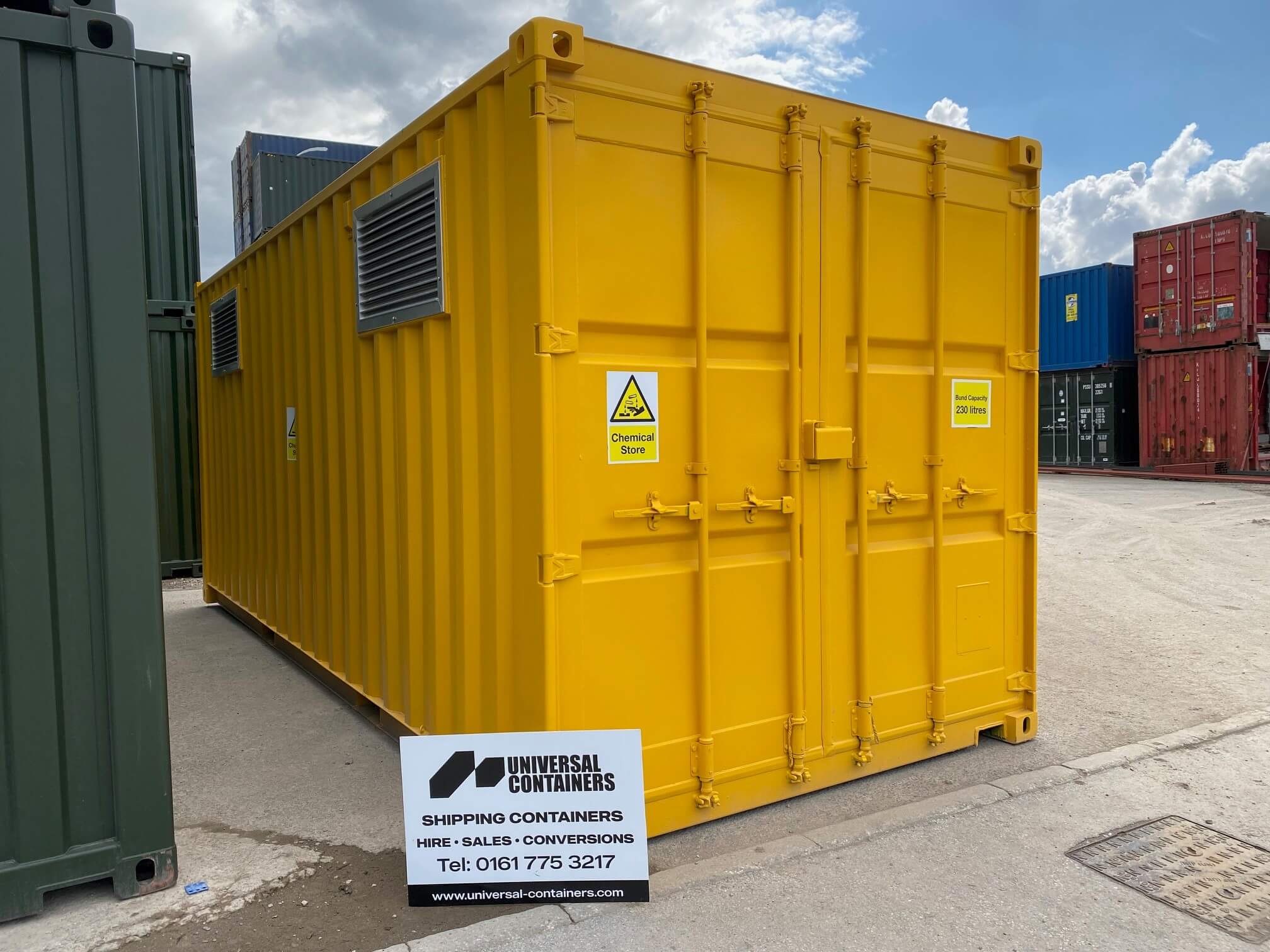 Case Studies
Case Study: Chemical Store Shipping Container Conversion
The client, an Industrial Chemical Storage Company specialising in chemical production and storage, faced the challenge of storing hazardous chemicals on their premises while adhering to stringent health and safety regulations.
More Inspiration
Don't just take our word for it
Find out why our customers love us and our products
My thanks go to Colin Redmond in sales, friendly, easy to talk to, very helpful and a quick return on any questions asked. Thank you 😆
Colin Redmond, really a great guy to deal with, I usually dislike sales people, but Colin has an extremely good attitude and a great sense of humour. Can't do enough for you.
Great experience with Colin, very knowledgeable and couldn't be more helpful
Andy Rushton was super helpful and Universal containers were fast and efficient would highly recommend using them. Mark Cooke @ Lee and Cooke Roofing Ltd.
Great Company to Deal With …. Colin knows his stuff and sorted me within an Hours all booked in
Excellent service from Pauline. Great to deal with, very quick response and delivery 👍
Very helpful, great customer care
Here at Wilson group Scotland, we purchase many containers and universal containers always provide the best quality and price! Stephen is always helpful and easy to work with. Thanks again! Mark.
Superb company! Andy met all our expectations and was the best price! I would recommend without hesitation.
always responsive and helpful and great on the delivery