If you've ever considered making a home gym or creating a personal workout space, you might not have considered the potential of shipping container gyms. However, it can be confusing to understand just how you can go about making this conversion.
Shipping containers are extremely versatile and have been converted into all kinds of storage or living spaces, so it didn't take long for enterprising individuals to realise they also make good gyms.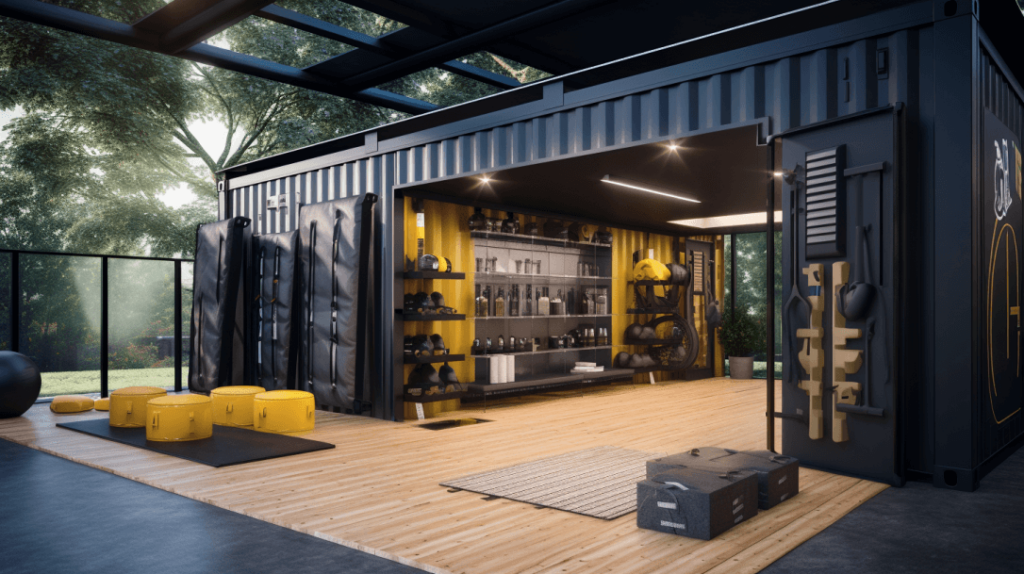 This article will cover everything you need to know about creating your shipping container gym, including the unique advantages they hold as well as any practical things you need to consider.
What are shipping container gyms?
Shipping container gyms have been around for a while, but sprang into popularity around 2012, gaining more media attention in 2015 and 2016. In 2018 companies began launching their own "gym pods" and the concept has been gaining popularity ever since.
In general, these are gym or workout spaces that have been constructed from new shipping containers or, for more affordable solutions, used shipping containers. These can be small but private gyms or large enough to fit in tonnes of equipment that multiple people could easily use.
Why use a shipping container for a gym?
For individuals, entrepreneurs, or even families, shipping container gyms don't take up a lot of space, but offer everything that someone interested in fitness would ever need. In the long term, these can be quite practical and affordable.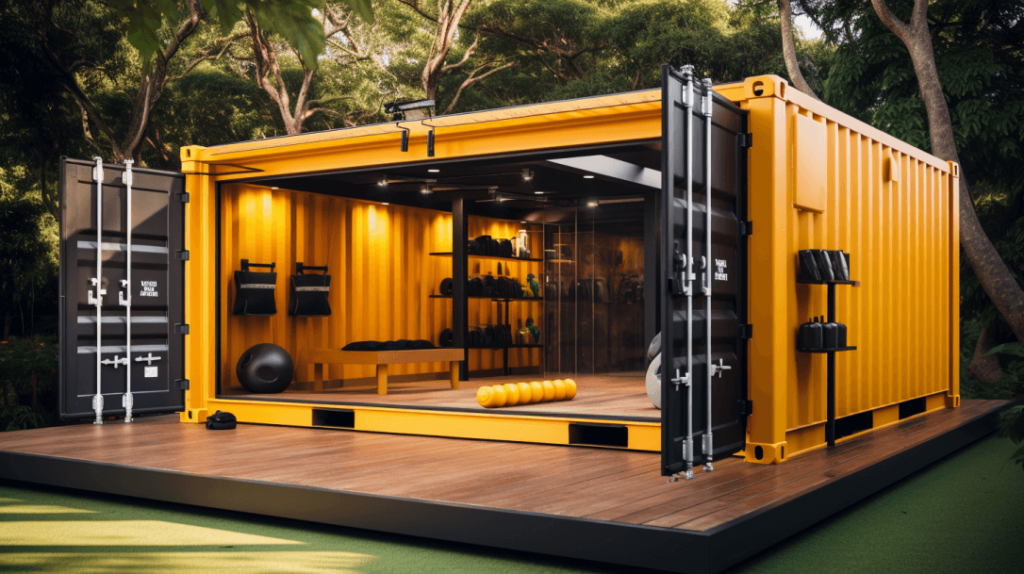 Shipping containers come in a variety of sizes (usually 10ft, 20ft, and 40ft, but there are also custom sizes available). Container gyms are great for those who want to keep in shape in the comfort of their backyard.
Another advantage of a container gym is that you can design the space to suit your own needs and requirements, adding whatever equipment you want to suit your goals.
Lifespan of shipping container gyms
Steel containers are durable and resistant to the elements, which means they can last a very long time. The maintenance process is also relatively simple, checking for rust spots and ensuring proper sealing will ensure the shipping container is strong. To put this in numbers, a well-maintained shipping container could last for well over 25 years.
Benefits of a shipping container gym
As mentioned, shipping container gyms offer a space that can be suited and customised to the way you want it. They are also a good way of repurposing and recycling containers that would otherwise be simply unused.
There's also a host of other surprising benefits.
Cost-efficient
A home extension for a gym can cost well over £30,000, depending on size and how much equipment you want. In comparison, used containers can cost around £1,500 and the total cost (including materials and labour) could run up to a total of around £10,000 to £15,000.
This makes container gyms an extremely cost-effective way of getting all the benefits and equipment you'd get from a home gym while paying less overall and avoiding monthly gym fees, which can add up in the long term.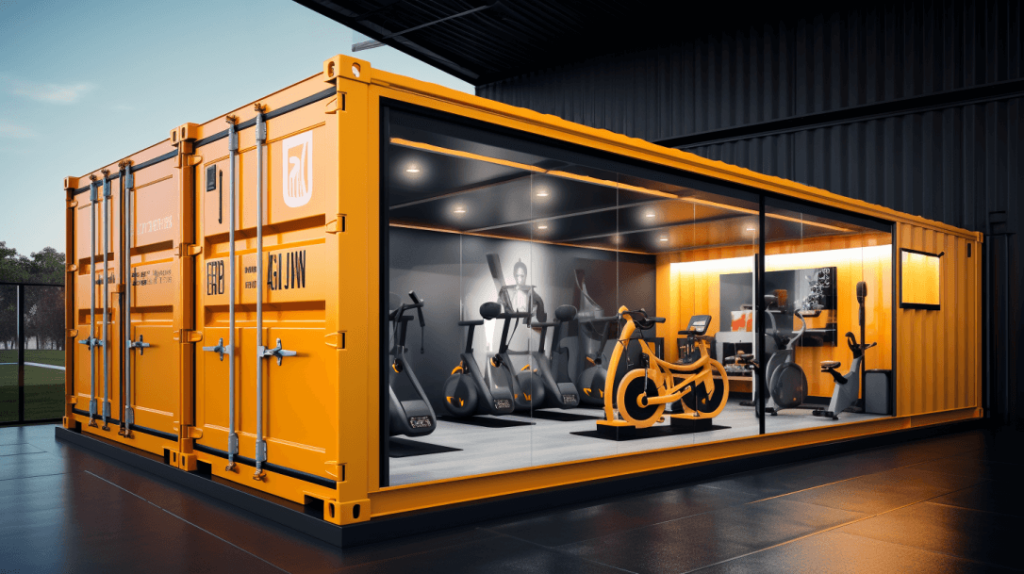 Depending on the size of the shipping container and what equipment you need, you could also double up on the space, using part as a gym and part as an office from which to run a business.
You might not need a permit
Shipping container gyms are officially classed as "temporary structures." This means that you do not usually need planning permission. However, it also pays to check local zoning laws or building codes to ensure compliance (and avoid any headaches down the road).
In cases where electrical installations or plumbing are being installed, you may find it a requirement to apply for planning permission.
Easy access and security
Container gyms are suitable for both backyards and commercial lots. In terms of security, shipping containers are constructed from hard metals making them incredibly difficult to break into, and it's also easy to add additional locks to keep them sealed and secure.
Time-efficient setup
Another benefit of container gyms over standard extensions is that they don't take nearly as long to build. The container itself provides most of the initial structure, which cuts down on build time, meaning the greatest time commitment usually involves insulating and designing the interior of the container gym – which is far easier and less time-consuming than building an extension in your home.
Converting a shipping container into a gym can also be done off-site, offering the advantage of significantly reducing disruption while the work on the shipping container is being constructed, in comparison to having it done near your home. This also allows for a simple and quick setup at the final location, meaning your new container gym can be set up and ready to use within a matter of weeks.
Privacy
Container gyms provide your own personal space to get away and further your fitness goals. For athletes or more dedicated fitness enthusiasts, container gyms can hold the equipment you need to train with, without any annoying waits or dealing with crowds.
Typical container gym sizes
Container gym sizes depend on a few considerations, namely how much space you have to work with to put your shipping container on, and how much equipment you'll want to put in it.
Standard shipping containers commonly come in several different sizes – 10ft, 20ft, 30ft and 40ft. These can be bought new or they can be repurposed from old shipping containers.
However, if you need a container that's smaller or bigger than the standard sizes there are lots of custom options available. For larger structures, containers can be stacked on top of each other and for smaller projects standard-sized containers can be cut down. This customisation makes them ideal for any gym project.
How much does it cost to convert a shipping container into a gym?
Used shipping containers are nearly always cheaper than new ones, but take into consideration that they might need more work or renovation to bring them up to standard.
Used shipping containers can range in price from £1,000 to around £3,000, depending on the size and state of the container. On the other hand, new shipping containers can range from £1,800 to around £18,000, keeping in mind that larger or custom-sized containers tend to cost more than the standard sizes.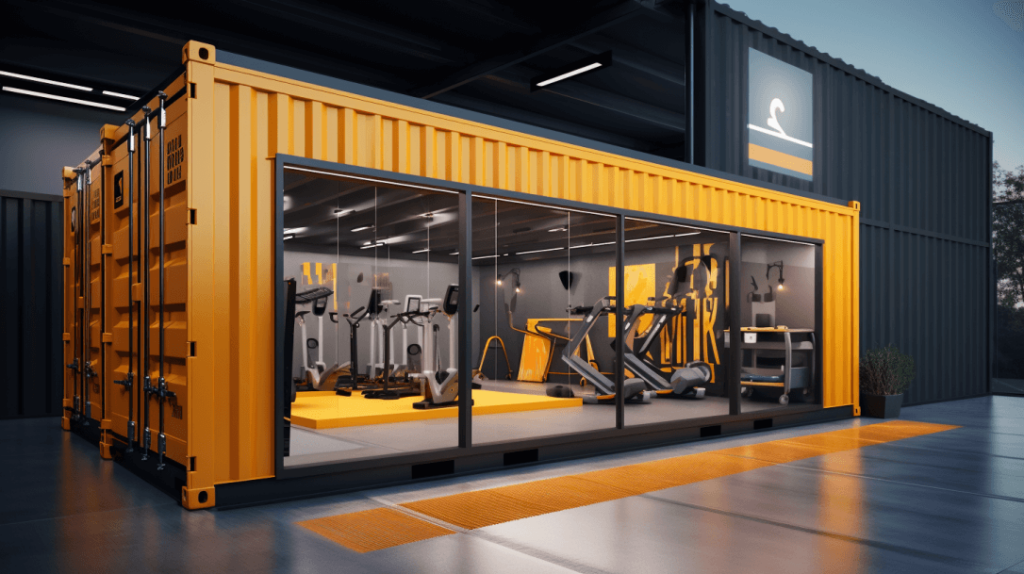 Finally, the cost of the conversion itself depends on any amenities you want to add, this could include electricity, plumbing, lighting, flooring, and the cost of the gym equipment. These costs depend on the size of the container, and if you'll be doing it yourself, or if you're hiring a professional.
Check out our comprehensive guide How Much Are Shipping Containers? Shipping Container Costs Explained for more information on shipping container sizes and what impacts their cost.
Converting a shipping container into a gym
The first step is to select a suitably sized container. This depends on what you need, how much equipment you plan on using, and how much space you have to fit the shipping container into.
It can be helpful to create a sketch or other visual representation of the layout you want for your container gym. It's important to check the suitability of the container as a gym, that it's safe to use, has adequate ventilation, and has the space needed to secure your gym equipment.
It's also important to consider which steps you'll need to take to ensure your gym equipment is installed safely. The safe installation of gym equipment usually requires adding proper flooring, as well as fixtures and mounts to attach things like pull-up bars or strap-based equipment.
Below are some other steps you'll need to follow to create the perfect gym.
Ensure proper airflow
Airflow and ventilation are crucial for safety and comfort – this prevents things like overheating and ensures there is enough oxygen while you workout. There are many options you can take for this, most people opt for things like vents and windows but you can also add HVAC systems.
Choose a colour scheme and lighting
Choosing the right colours and lighting scheme is good for adding a personal touch and making the space your own. Lighter colours can open up a space and create the illusion of a wider area, which can be more aesthetically pleasing. However, colour choice is personal and is completely down to what suits you the best.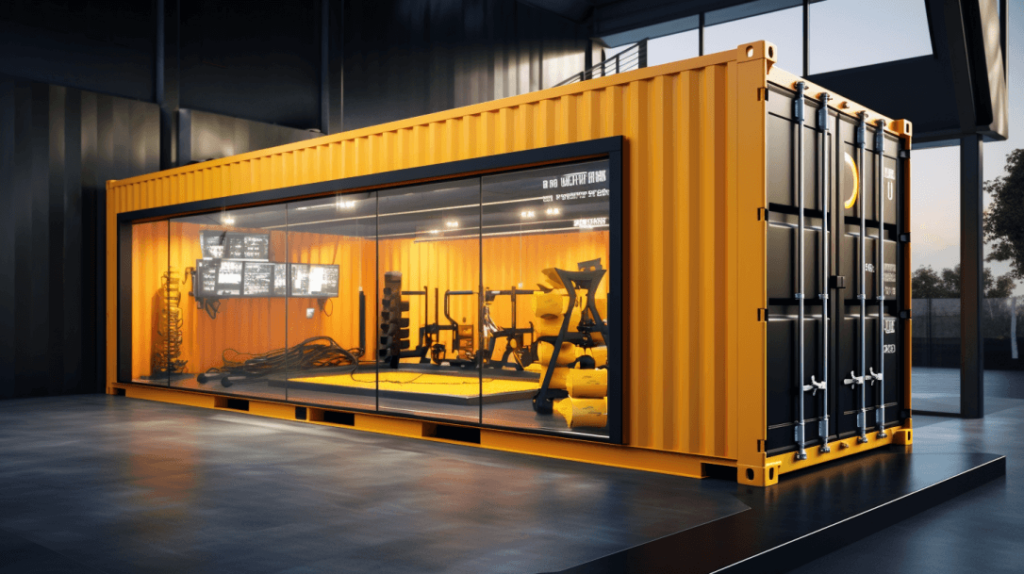 Customise the walls and flooring
The next step is to customise the walls and flooring to your liking, remember – a good colour scheme can open up a space.
The walls and floor you choose also serve as the platform for your gym equipment. The metal surface that a standard shipping container is composed of will not be suitable to nail or screw any equipment to, and the floor will be noisy and potentially hazardous for larger equipment such as heavy weights or aerobic machines.
Due to this, you'll want to select materials and options that won't be damaged by weights or by the forces used in exercise equipment.
Add amenities and features
You'll want to consider what amenities and features you want to add. This will mostly come down to the exercise equipment you want to add – for example, if you have a barbell you might want to add a rack to keep the weights organised and off the ground.
Other amenities can include chairs, and tables, and go as far as added electricity and plumbing. When it comes to container gyms, you can pretty much personalise them as much as you want.
Customise the exterior
Finally, you have the option of customising the exterior of your container. This can be as simple as throwing a coat of paint on the outside, or you can add extra equipment (like pull-up bars or cable attachments). 
If your container gym is for commercial purposes, then you might want to add more eye-catching colours or add banners and signs to the exterior to attract attention.
Conclusion
Shipping container gyms are gaining more popularity and represent the future of sustainable and personalised fitness spaces.
Shipping container gym conversions are a fantastic combination of innovation and functionality and can serve as a top-tier training location. They are cost-effective, adaptable, and recycle and reuse what would otherwise be rusting shipping containers, making them an eco-friendly alternative to standard home extensions.