In an era where roughly 20% of the country lives with some form of disability, it's difficult to imagine that many of these people do not live in suitable housing. Universal Containers are proud to announce that we have produced a model home for Blackwood – a company who specialise in providing specialist housing and care.
This fully furnished unit demonstrates the high-end finishes that we produce in addition to the versatility of shipping containers. The Blackwood Project features a professionally fitted and adjustable bathroom and kitchen, which allows for an adaptable home that can be suited to anybody. Not only does this space encourage independent living, it also promotes connectivity to the outside world via WiFi and the integration of the CleverCogs system. An intelligent, futuristic home is something we all dream of. However, a home like this is highly beneficial to those wishing to live a full, self-sustaining life. From the unit's aluminium access ramp to a sliding door for easy access, the Blackwood Project was created with accessibility as a priority.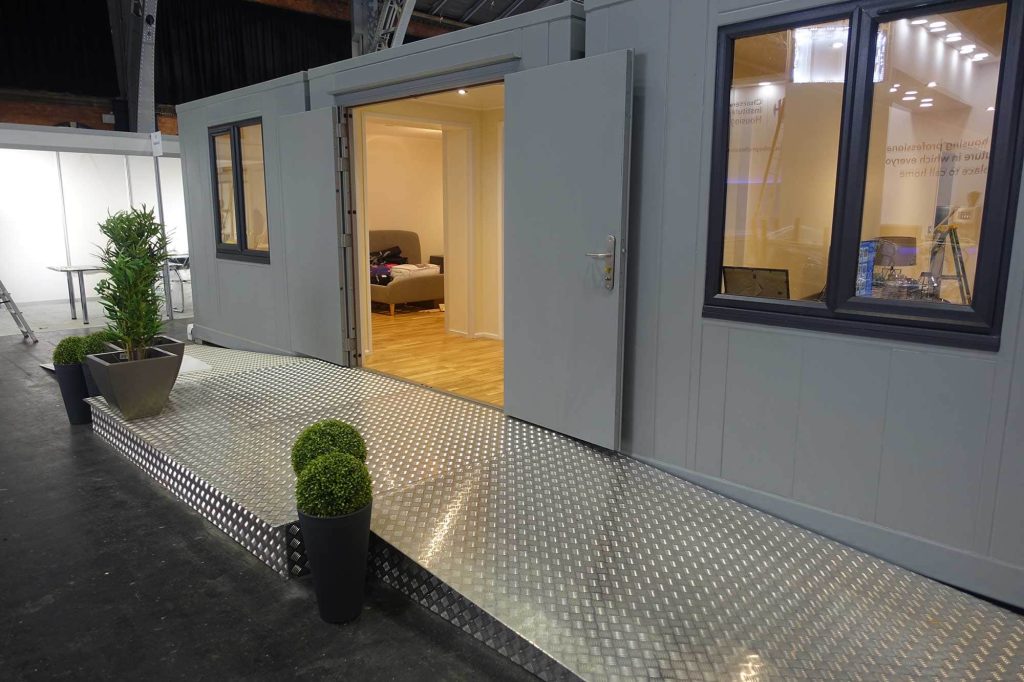 Blackwood wanted to ensure that owners of their properties could live safely and securely, without the need for residential care and also believe strongly that those with disabilities have the most to gain from technological advancements- as even a wheelchair can be seen as technology. In creating the Blackwood model, we aim to aid Blackwood in bringing more awareness to the lack of adapted homes across the country and showcase the modern standard for these homes.
The Blackwood Project's kitchen features worktops, units, an oven, a hob, a sink and an extractor fan. Additionally, the bathroom is fitted with a sink, toilet, shower and a shower chair. As previously mentioned, all of these units are adjustable and can be moved wirelessly to accommodate to the owners needs and preferences. Furthermore, the Blackwood unit consists of 6 rooms; an entrance, bedroom, study, bathroom, kitchen, and an open plan living/dining room, providing a spacious, easy to use home. This space also includes glazed windows all around the unit, allowing for vast amounts of natural lighting. The Blackwood model also has fitted high-end spotlights and electronically operated blinds for the night or in case natural lighting isn't quite your thing.
Here at Universal Containers, we share the values of Blackwood, ensuring great value and even better quality for our customers. We believe that the use of the Blackwood model will draw attention to and encourage people to buy innovative adapted homes that are not just suitable to them, but enjoyable to live in.