Shipping Container Stadium Seating NOW AVAILABLE
After having experienced an overwhelming increase in demand over the last couple of years, we've decided to add shipping container stadium seating to our ever-growing list of standard container offerings. Converted containers are being used for hundreds, if not thousands, of different purposes across the UK and the world. More and more people are continuing to find different uses for shipping containers, which is great for so many reasons.
Recycling a used shipping container can have many benefits, including the saving you a lot of money! For homeowners looking for additional space, rather than constructing an expensive, permanent house extension, lots of people are now opting for shipping container converted into garden rooms which offer them the same solution for a fraction of the price. Not only that, having the container installed in your chosen location by our team of professionals is a one-off job. That's right, no workmen in and around your house for months on end as we construct the container to be fit for purpose at our site before delivering to your UK mainland address. Of course, it's equally important to remember that although your converted container may look completely different post-fabrication, it's still a shipping container! These containers were obviously built to last, as their main purpose was to transport goods and cargo via rail, road and sea, so with the right care and attention, you can rest assured that your container is safe from the elements and built to withstand the test of time.
Hassle-free, cost-effective, fit for purpose, and built to last need we say more?
The same benefits apply to our latest shipping container stadium seating.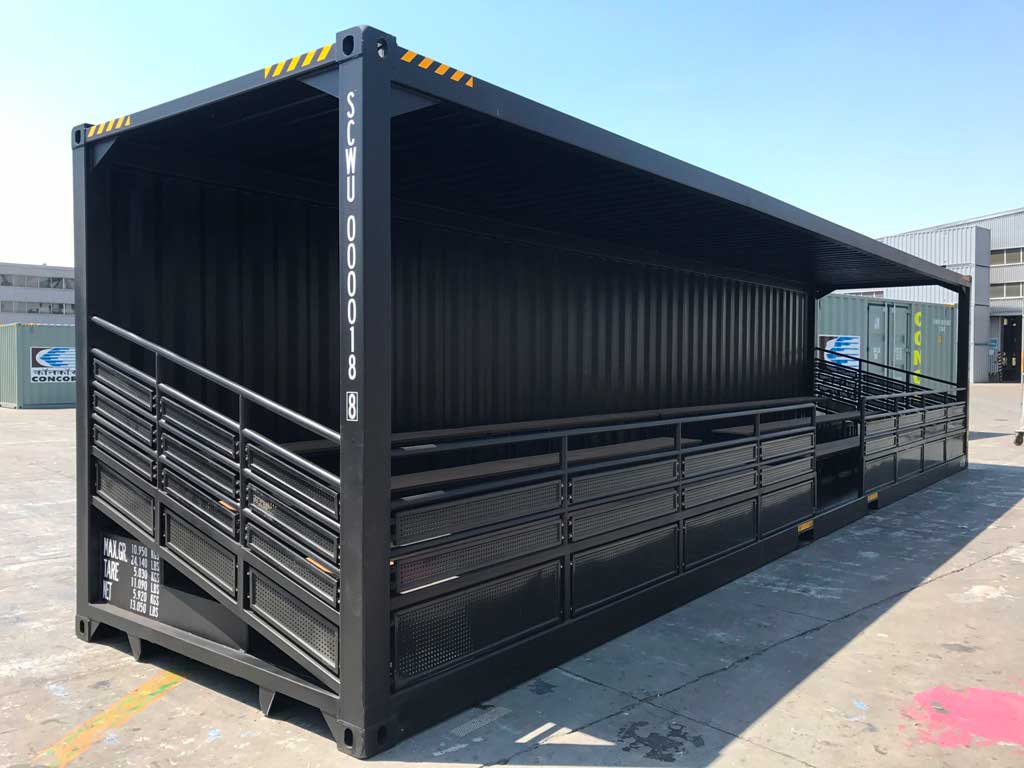 Hassle Free
Stadium seating and dugouts are traditionally a fixed item or require large-scale construction, whereas shipping container stadium seating offers the convenience of being transportable in addition to being 'ready to go' with no construction necessary. Their portable nature allows them to be moved about as and when you see fit, so they're perfect for roadshows and touring events. It's no wonder they're so popular with amateur football clubs and outdoor arena events alike!
Cost Effective
Given the fact that traditional stadium seating requires a skilled workforce to construct and erect safe, effective seating, it's not only the materials that incur a high cost, it's the staffing that can increase your bill too. With shipping container stadium seating, we build your desired stadium seating at our site in Manchester and then transport and install the completed units to your desired location, quickly and efficiently. In comparison to traditional stadium seating, you'd be saving more than just a pretty penny!
Fit For Purpose
At Universal Containers, we pride ourselves on being the UK's leading specialists in shipping container conversions, so when it comes to converting your chosen container into stadium seating, we can create bespoke units specifically to suit your brief. When discussing your project, our professional team can offer helpful advice to enable you to choose the most suitable, cost-effective options to transform your container into a purpose-built unit that is fit for exactly what you require. Whether you need more seating, additional coverings, windows, etc, we can help.
Built To Last
The initial purpose of a shipping container is to withstand extreme weather conditions, so if you're looking for a long-term solution for stadium seating, you can rest assured that shipping container stadium seating will have a lifespan suitable to your brief as they are built to last. With the correct care and attention, shipping container stadium seating can last for decades with very little maintenance necessary.
Interesting stuff, right? We certainly think so! A portable, durable solution for stadium seating was long overdue and with our brand new shipping container stadium seating units, you can rest assured that you'll have spent little and gained a lot with this cost-effective container conversion.
If you would like more information on stadium seating, or if you wish to discuss a container conversion project you have in mind, feel free to call Universal Containers on 0845 050 0330 or email andy@universal-containers.com for a free, no obligation quote or friendly, helpful advice.