Client Industry: Chemical Industry
Job Location: Dumfries
Value of work: £15,000
Project Overview
The client, an Industrial Chemical Storage Company specialising in chemical production and storage, faced the challenge of storing hazardous chemicals on their premises while adhering to stringent health and safety regulations. They required a secure and compliant storage solution that would ensure the safety of their employees, protect the environment, and meet legal requirements.
The Challenge
The storage solution had to comply with relevant health and safety regulations, including those set by the Health and Safety Executive (HSE) and the Control of Substances Hazardous to Health (COSHH) regulations. The client required a secure storage solution to prevent unauthorised access and potential theft of hazardous chemicals. The storage solution needed to prevent any leakage or spillage of chemicals, ensuring the protection of the surrounding environment. Also, they required a solution that could accommodate their growing inventory of chemicals and adapt to future needs.
The Approach
Universal Containers proposed a converted shipping container as the ideal solution to meet the client's requirements. The container could be customised to ensure compliance, security, and environmental protection.
The Solution
We modified the container to meet all relevant health and safety regulations, including Ventilation for improved air flow, grated false floor, floating shelving, ATEX rated electrics (D-Sear Approved), Drainage Tap, and appropriate signage. We installed a bundled flooring system to contain any potential spills or leaks, preventing contamination of the surrounding environment.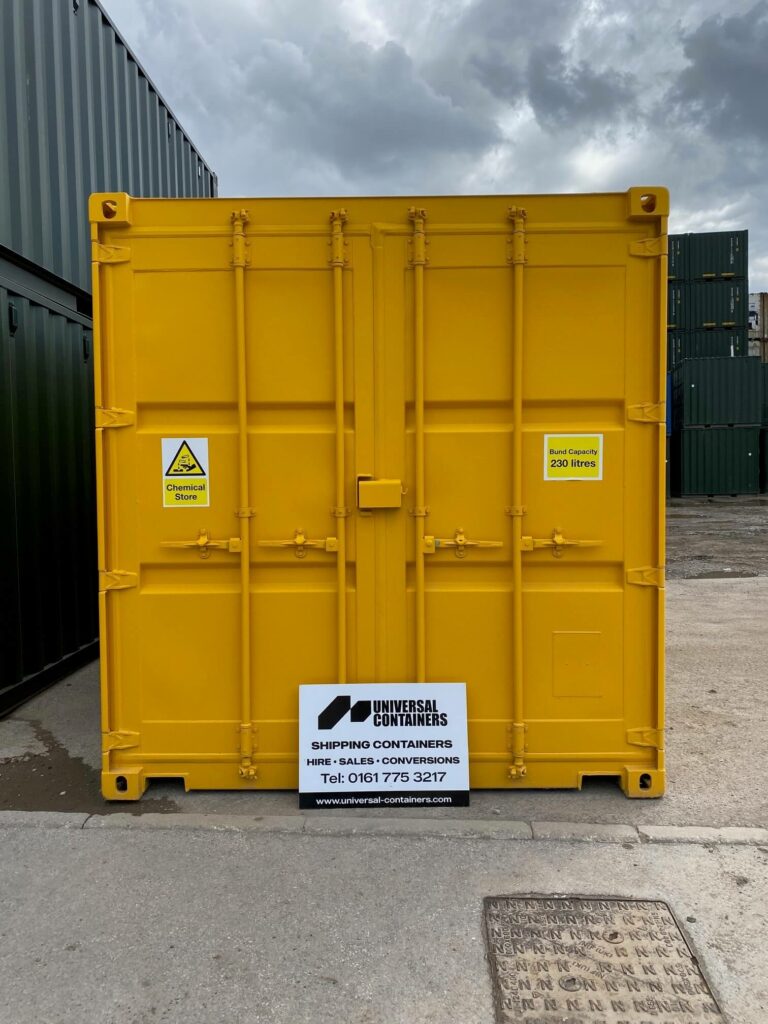 The Result
The converted shipping container provided a secure and compliant storage solution, significantly reducing the risk of accidents and injuries related to chemical storage. The client successfully met all relevant health and safety regulations, ensuring they remained in good standing with regulatory bodies such as the HSE and COSHH. The bundled flooring system effectively contained any potential spills or leaks, preventing environmental contamination and minimising the company's ecological footprint. The scalable design of the container allowed the client to easily adapt to their growing needs, ensuring a long-term storage solution that could accommodate future expansion.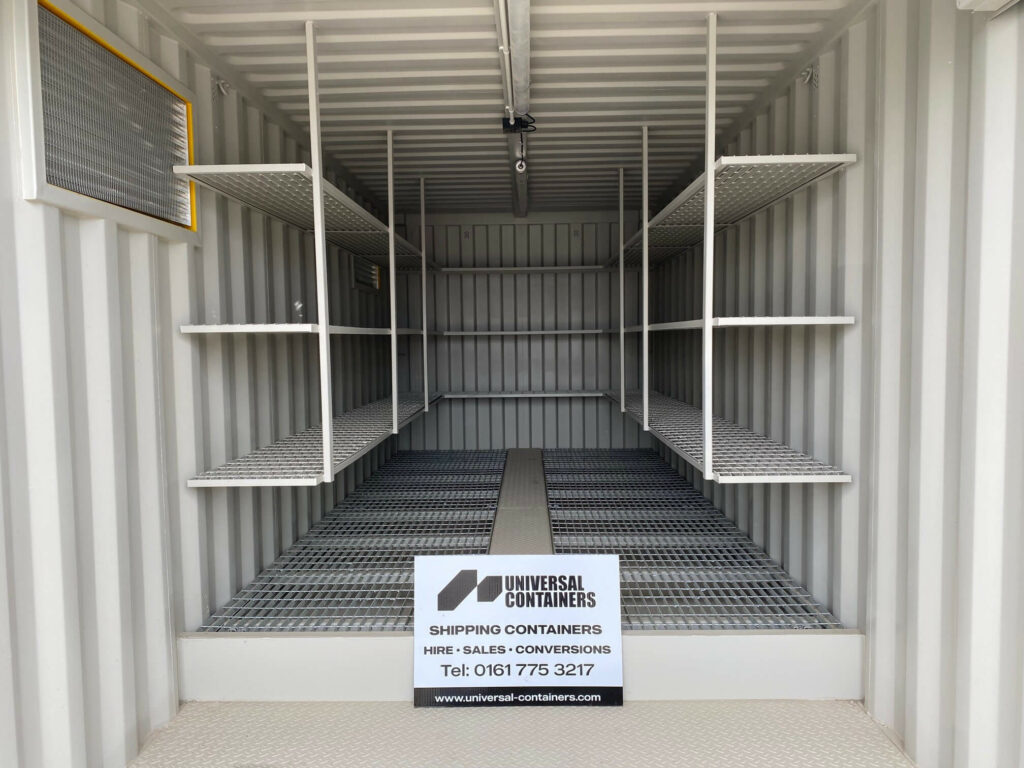 Client Feedback
"Very speedy communication and great service! The container we've ordered looks great, and meets our HSE regulations, craftsmanship is second to none."
Looking for a secure and compliant chemical storage solution? Discover our range of prebuilt, COSHH chemical storage containers, designed for immediate use. Our containers are made to meet stringent safety standards, providing you with peace of mind and a ready-to-go storage option.
At Universal Containers, we understand that one size doesn't always fit all. If your storage or transport needs are unique and require a specialised approach, we're here to help.
We specialise in providing tailored solutions to match your exact specifications. Whether you're in need of custom dimensions, specific modifications, or need expert advice on container customisation, our dedicated team is ready to work closely with you to find the perfect solution.
Contact us today to discuss your specific needs, and let us assist you in finding or customising a shipping container that aligns perfectly with your requirements.